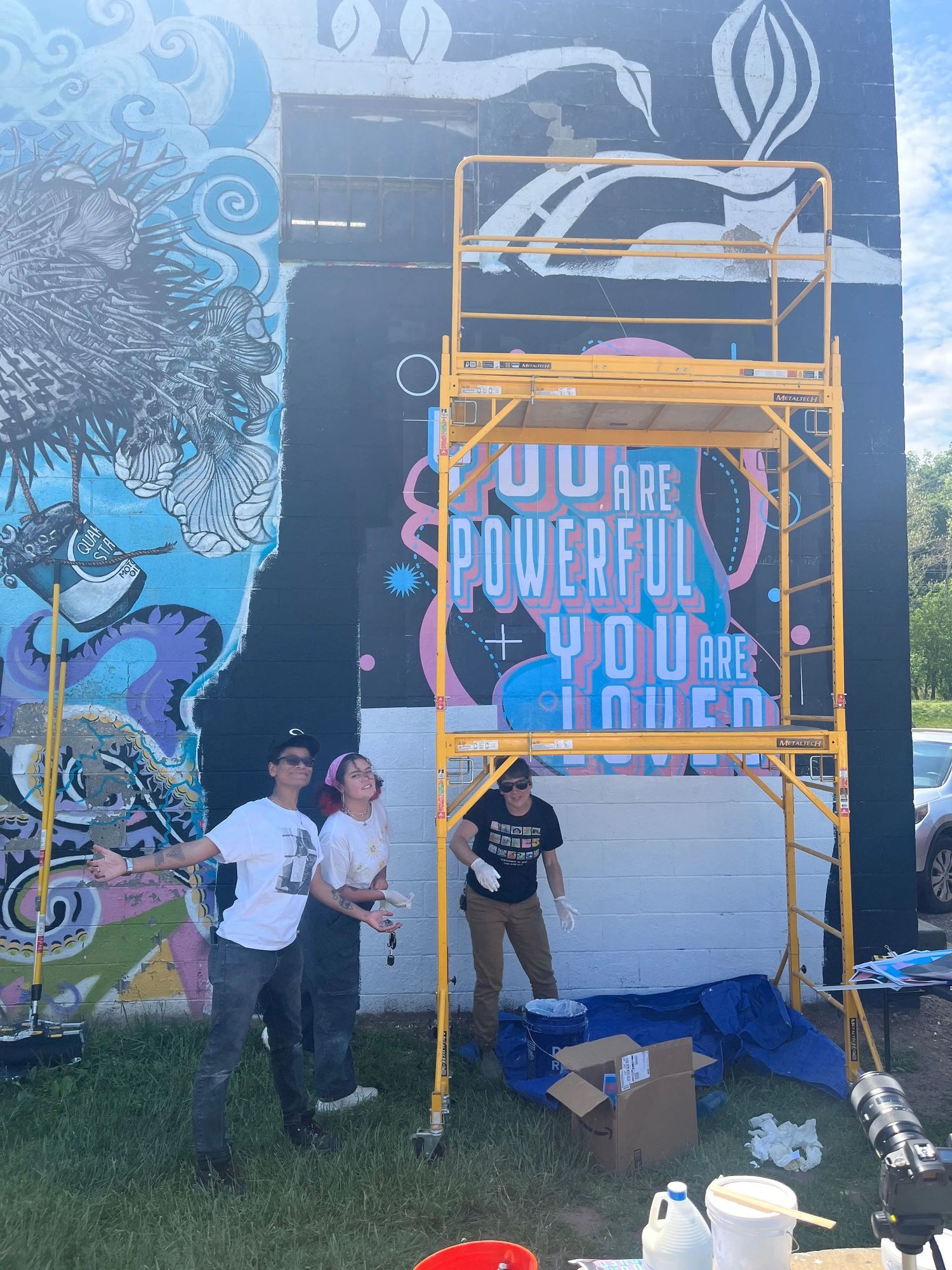 Urban art is a fantastic tool to bring together artists, communities, and businesses, to create positive social change. Installationslike Southern Equality Studios' new mural in the River Arts District in Asheville encourages people to stop and think about the struggles trans youth deal with, which in our country resulted in the highest rates of suicide of any teen group. The mural also serves as a reassurance to trans youth in our community that they are powerful and loved.
The Southern Equality Studios is a branch of the Southern Campaign for Equality . The mission of the program is to "explore how the arts can be a catalyst and force in achieving lived and legal LGBTQ equality across the South". Craig White, the Supported Schools Coordinator for the Campaign, believes that this message is even more important in the light of laws recently proposed by the NC General Assembly that would restrict the rights of trans youth. These laws include sports bans, restroom restrictions, medical treatment prohibitions, and requirements that schools alert parents when a child questions or changes their gender identity.
Liz Williams is the mural artist and Creative Director of Southern Equality Studios. Her mural says "You are Powerful You are Loved". Williams said she wanted to create a work of art that speaks to trans joy and resilience. "We need these words of affirmation for youth that feel beaten down by the news," she added. The mural features trans pride flag colors and a QR code linked to the Southern Trans Youth Emergency Project. The program provides trans individuals with medical services and access to grants. "We need people who are brave in their own self-liberation to be able to freely express themselves and not be judged," Williams added. "I don't want people to feel sequestered in a closet or back in the shadows. They really deserve to live life!"
Craig White said that local school boards are also creating their own restrictions on trans kids rights. For example, the Moore County school board passed a district policy misleadingly called the "Parents Bill of Rights", which decrees that faculty must out kids to their parents if they express interest in gender issues. The Southern Campaign for Equality is supporting guidance counselors and social workers in the county that got together and compiled a list of state and federal laws, and professional codes of ethics that protect trans children. "Parents have rights but students also have rights and privacy protections and they can't face discrimination based on gender," said White. Anti-trans bills have doubled since 2022 Kids don't know where they'll be safe week to week or month to month."
Public art is often a tool that artists use to express their ideas to the wider public. The pieces reclaim underutilized space and provide artists a medium to share opinions about politics and social inequalities. Among the most famous American street artists is Jean-Michel Basquiat. His Neo-expressionist creations in the 1980s challenged conventional narratives and inspired social change, as well as empowering the disenfranchised. In "Bird on Money", he paid homage to black history and jazz great Charlie Parker. His work "Obnoxious Liberals" is a statement about capitalism and exploitation, and "The Nile" illustrated the brutalities of the slave trade.
More recently, the Walls of Justice project is an online gallery and community forum created in the wake of the George Floyd murder and resulting riots to highlight murals that were created on boarded up businesses throughout the country, and later as permanent installations. Their mission is to "spread a message of positive change through street art" Many of these murals were created in downtown Asheville and later auctioned to raise money for the Asheville Arts Council.
William's mural uses a paste up method in which printed squares of the design are pasted with acrylic medium as an adhesive and coated with a weatherproof varnish . It replaced Ian the Painter's mural of Ruth Bader Ginsberg that was vandalized by a crew called ACAB (All cops are bastards) an anti-establishment movement started in England in the 1920a that gained momentum in the "Defund Police" sentiment after the George Floyd murder. Williams said Ian welcomed the project as a great opportunity to recover the space. Volunteers who collaborated with Williams on the piece came from a range of backgrounds and countries, including Peru, and were excited to support trans youth and their friend Liz. Whisper Moore, the Engagement and Resource Manager for the Campaign or Southern Equality, said "their mission is to show queer youth that they are loved and supported and there are more people that are behind them than oppose them."
At Mountain Mural Tours, we look forward to seeing more art in Asheville about social justice issues. We value the power of urban art to make statements about what to celebrate and what to analyze about American culture. And we love that our city provides a canvas to express these ideas.