Asheville, North Carolina, is a vibrant city that boasts a rich and diverse culture, beautiful scenery, and a deep sense of community. Every year, thousands of tourists flock to Asheville to experience its unique charm. If you are planning to visit Asheville, one of the best ways to explore the city is by taking a bus tour. Bus tours offer an excellent way to see all that the city has to offer in a convenient, fun, and educational way. Not to mention buses are airconditioned in the summer and have heat in the colder months. In this blog post, we will explore the top bus tours in Asheville that you should add to your itinererary
A tour we think you'll love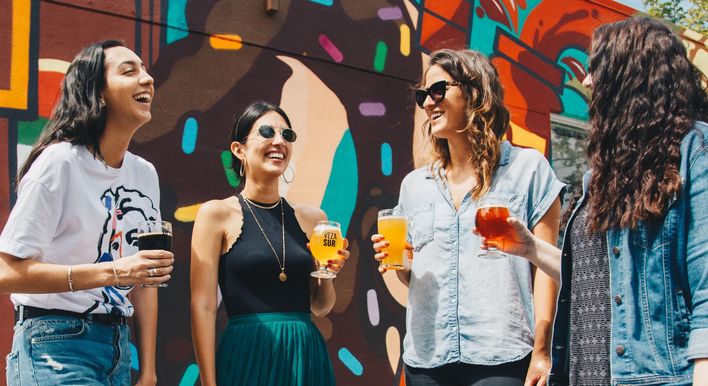 Street Art and Sips
From TBD
View tour
Gray Line provides a range of tours in Asheville that cater to different interests, including art and architecture, beer and wine, and historical landmarks. Gray Line is also an excellent option for those who want to see the best of the city in a short amount of time. Their tours are led by knowledgeable guides who provide insightful information about the city. The company's signature Hop-on-Hop-off Trolley is one of the most popular tours, taking visitors through Asheville's historic neighborhoods, downtown area, and scenic overlooks allowing guests to disembark to explore areas and hop back on to return to their vehicles.
Asheville is known for its thriving beer scene, and Asheville Brewery Tours is one of the best ways to explore it. On the tours, visitors can sample a variety of local brews, learn about the brewing process, and soak in the city's stunning landscapes. Their tours are led by experienced guides who have extensive knowledge of the local beer scene.You will gain an excellent understanding of the brewery scene in one of the country's leading craft brewing cities.
The LaZoom Comedy Tour is an innovative approach to exploring Asheville. The company offers a unique combination of comic relief and history in a bus tour format. The 90-minute tour takes visitors through Asheville's streets while being entertained by local comedians who share quirky tales and interesting facts about the city. This tour is perfect for those who are looking for a fun and unique way to experience Asheville.
A colorful urban art tour through the River Arts District, Downtown, and West Asheville with an amazing collection of murals, graffiti, sculpture, and street art installations. You'll learn about the creators' stories and inspirations, local history, and the community businesses that have made Asheville a national tourist destination.
We offer scheduled small group tours every Saturday. Private tours are customized for your group and scheduled daily.
Taking a bus tour is an excellent way to explore Asheville's diverse culture, beautiful scenery, and community. These tours offer visitors a comfortable and convenient way to see the city's landmarks, historical sites, and outdoor attractions. Whether you are interested in beer, ghosts, or simply taking in the city's stunning landscapes, there is a bus tour for you. So the next time you are in Asheville, be sure to add one of these top-rated bus tours to your itinerary. You won't regret it!